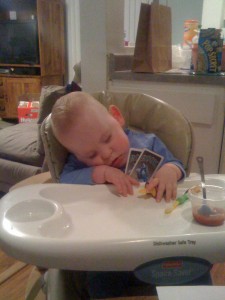 Tonight we had some friends over to play rook.  Greyson got bored and decided to help us play.  Then that got boring and he fell asleep!  OK maybe there was some staging involved, but we thought it was funny!  I know I haven't posted in awhile, but there hasn't been too much to say.  Greyson continues to delight us every day.  He is still not crawling (I told him he had till the end of the month, we'll see how that goes).
Today they came and took the ventilators away (we had two, one for home and one for travel).  They also brought out a machine so we can provide warm humidified air for Greyson but the RT forgot all the connections we need to actually hook it up to Greyson's trach so Greyson will have to go a couple more days with no humidification.  He has done well all week (he's been off the ventilator for over a week already!!) but we think he will need some humidification time as he gets pretty dried out.  Hopefully we will get the parts soon and it will help keep him just right.  Not to dry, not to much as then we will have to suction him all the time.
Tuesday MARCH 3 (thanks everyone for helping me with my dates, I'm still learning the difference between May and March apparantly!) Greyson will have his Bronchoscopy.  We met with the Dr. last Friday and got more information about the sleep study.  Greyson did well enough to warrent the removal of the ventilator, but the Dr. felt he was not ready for decannulation yet (that is the fancy word for taking the trach out).  The bronchoscopy should give us information as to what the problems are and what steps we will have to take for the trach to come out.  This could be anything from he's great it can come out whenever (the Dr. doesn't expect this outcome, but God can still do miracles!), it could be there is some scar tissue that may have to be taken care of (this seems to be what the Dr. is expecting), it could be Greyson will need his tonsils and adnoids out, or Greyson may need reconstructive surgery to repair damage to his trachea.  So really it is wide open and we won't know till Tuesday.  Don't fret, I will post something as soon as we get back from the Dr's on Tuesday so anyone who wants to know can check and find out the results.
Well I still have 3 hours on my watch so I better get settled in.
If you're still reading this, thanks for keeping us in your thoughts and prayers, we appreciate you!!  My guess is we've lost some readers do to the decline in frequency with the posts.  So to those still checking in, Greyson says he loves you all!  (Well he said it earlier, he's actually asleep now…………………)