This year for thanksgiving we loaded up the car and headed to Idaho to spend time with family. The kids did great with the long car ride (probably better than their parents) and we arrived safely without issue.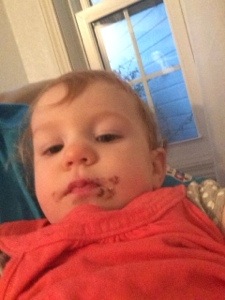 Lucy LOVED being around family, and as you can see she loved the food as well! She ate so much she had belly aches almost every night. While that part was not that exciting she was so cute as she would go around interacting, and basically begging, food from everyone.
Greyson had a great time as well and enjoyed interacting with his aunts, uncle, cousins, grandma Terry, and Grandma great.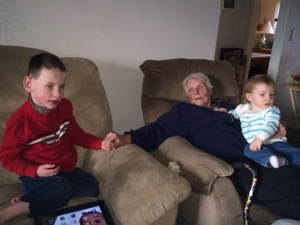 Lucy-Jo showed off her technical prowess while there by using my cell phone (which is pass code locked so you can't use it without entering the pass code) to call her grandma Terry. Grandma Terry had just told Lucy to use my phone to call her, and within a couple minutes my mom's phone was ringing. As somewhat of a geek I was so proud, and deeply concerned that my one year old could somehow bypass the pass code settings and make a call. I guess I should be happy it wasn't to 911.